What are infrared cabin sprays?
Infrared cabin sprays are specially developed liquids that can be used in your infrared cabin to improve the indoor climate, disinfect the air or leave a pleasant scent. They are available in different fragrances and for different purposes and help to make the experience in the infrared cabin even more pleasant and healthy.
Advantages over conventional sprays
Compared to conventional room sprays, infrared cabin sprays offer a number of advantages. They have been specially developed for use in the infrared cabin and do not contain any harmful ingredients that could cause unpleasant odors or harmful vapors when heated. In addition, they are often made on a natural basis and are therefore more environmentally friendly than many conventional products.
Different types of infrared cabin sprays
aromatherapy sprays
Aromatherapy sprays for infrared cabins contain natural essential oils that give off a pleasant scent when sprayed in the cabin. These scents can have a relaxing, invigorating or stress-relieving effect and contribute to a more pleasant indoor climate. Aromatherapy sprays are available in different scents such as lavender, eucalyptus, citrus or peppermint.
disinfectant sprays
Disinfection sprays for infrared cabins are designed to rid the air in the cabin of bacteria and germs. They thus ensure a hygienic environment and reduce the risk of infections and colds. Disinfectant sprays are mostly odorless or available with subtle scents.
cleaning sprays
Cleaning sprays for infrared cabins are used to clean and care for the cabin surfaces. They remove dirt, grease and deposits and ensure a clean and well-kept infrared cabin. Many cleaning sprays contain natural ingredients and are biodegradable, making them environmentally friendly.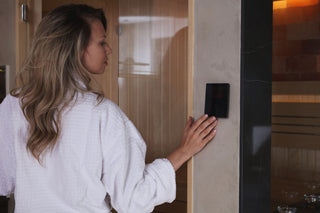 application and dosage
Easy to use and individually dosed - that's the best way to describe our infrared cabin sprays. With optimal application and dosage, you can exploit the full potential of our high-quality essential oils and natural aromas and increase your well-being.
frequency of use
The frequency of use plays an important role in the maximum effect of our infrared cabin sprays. Regular use can help you feel completely comfortable in your infrared cabin and improve the indoor climate. In this section you will learn how often you should use our sprays to get the best possible result.
dosage and distribution
When applying the infrared cabin spray, the correct dosage is crucial. Aromatherapy and disinfectant sprays should be used sparingly. One to two sprays per cubic meter of room volume are usually sufficient. With cleaning sprays, the manufacturer's instructions for dosing and distribution on the surfaces to be cleaned must be observed.
storage and shelf life
Infrared cabin sprays should be stored in a cool, dry and dark place to maintain their durability and effectiveness. Always keep the spray tightly closed to prevent the liquid from leaking or evaporating. The shelf life of infrared cabin sprays varies by manufacturer and product, but is typically at least 12 months.
Pamper yourself with our infrared cabin sprays
Infrared cabin sprays are an excellent addition to your wellness experience in the infrared cabin. They help to improve the indoor climate, ensure a hygienic environment and emit pleasant scents. When choosing the right spray, pay attention to your individual needs and intended use and follow the manufacturer's instructions for use to achieve the best result.
Frequently asked questions about infrared cabin sprays
Here you will find answers to the most frequently asked questions from our customers regarding our infrared cabin sprays. Find out about the benefits, uses and properties of our products to make the perfect choice for your personal well-being.