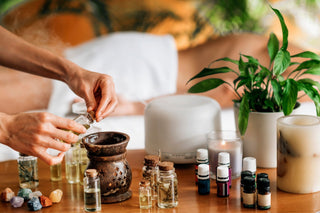 What are massage oils?
Massage oils are special oils that have been developed for use in massages. They can be made from a variety of natural oils, including almond oil, jojoba oil, grapeseed oil, olive oil, and many others. Massage oils are often blended with essential oils to increase therapeutic benefits and create a pleasant scent.
How to choose the right massage oil?
When choosing the right massage oil, you should consider the following factors:
1. Skin type
Consider your skin type before choosing a massage oil. If you have sensitive skin, you should choose a hypoallergenic oil. If you are prone to acne, choose a non-comedogenic oil.
2. Fragrance
Some people prefer unscented massage oils, while others prefer to use a scented massage oil. If you are sensitive to certain scents, choose an unscented massage oil.
3. Consistency
The consistency of the oil is important to the massage process. If you want a deeper massage, choose a heavier oil. If you prefer a lighter massage, choose a lighter oil.
4. Purpose of the massage
Consider the purpose of the massage before choosing a massage oil. If you are looking for relaxation, choose an oil with calming properties. If you perform a sports massage, choose an oil with anti-inflammatory properties.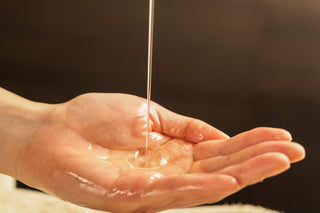 How to use massage oils
After choosing the right massage oil, you can use it as follows:
01. Heat the oil
Warm the oil by rubbing it in your hands or by heating it in a bowl over hot water. Make sure the oil is not too hot to avoid burns.
02. Apply the oil
Apply the oil to the areas to be massaged. Use enough oil to ensure a smooth massage.
03. Massage the skin
Gently massage the skin using circular motions. Start with light pressure and gradually increase the pressure as the recipient responds.
04. Remove the oil
After the massage, remove the oil with a towel or leave it on the skin to enhance its moisturizing properties
05. Clean the skin
After the massage, cleanse the skin with a mild cleanser to remove excess oil.
06. Store the oil properly
Store the massage oil in a cool, dry place to extend its shelf life.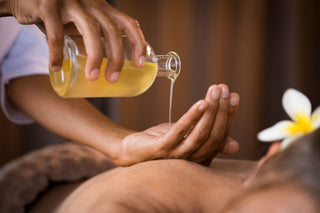 Benefits of massage oils
Experience relaxation and recreation with our high-quality massage oils! Our products have been carefully selected to give you the best results. Discover the benefits of essential oils to calm your senses and invigorate your body.
01. Relaxation
Massage oils can help reduce stress and promote relaxation.
02. Pain Relief
Some massage oils have anti-inflammatory properties and can help with pain and inflammation.
03. Improved blood circulation
Massage oils can improve blood circulation and improve the supply of oxygen and nutrients to the muscles.
04. Improved skin health
Some massage oils contain antioxidants and vitamins that can help nourish and protect the skin.
Massage oils are a great way to reduce stress, relieve pain, and promote relaxation. By choosing the right massage oil and using the right techniques, you can enjoy a soothing massage and reap the benefits of massage oils.
Frequently asked questions about massage oils
Here you will find all the answers to frequently asked questions about massage oils. Discover the many benefits of our high-quality oils and find the perfect product for your needs.